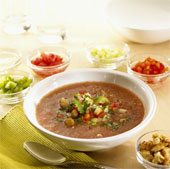 Gazpacho is a cold tomato soup, originally from Andalucia. Nobody knows where the name came from, but it may originate from the Latin for 'crumbs,' as true gazpacho is based on bread soaked in olive oil, garlic, vinegar and salt. These days, gazpacho has gourmet connotations, but originally it was a dish for the poor, based on bread and vegetables. Some may say gazpacho is not a soup, as it doesn't have a stock base and is not cooked; in fact, gazpacho has been called 'liquid salad.' But it looks like a soup, and has the consistency of soup, so let's call it that, as it's so much easier on my keyboard fingers!
Gazpacho can be served as a starter for a Spanish themed dinner, or, when the temperatures are in the 30's and you don't feel like eating anything much, enjoy it on its own. It's one of the few traditional Spanish recipes that caters for vegetarians, and should be made with quality fresh ingredients for best results. Use a hand held electric blender to make easy work of this typically Spanish dish. This recipe for traditional gazpacho
Ingredients
5 slices stale white bread (at least 3 or 4 days old for best results)
900 g ripe tomatoes
2 cloves garlic, crushed
5 tbsps extra virgin olive oil
2 tbsps lemon juice or wine vinegar
120 ml ice cold water
1 tsp salt
Pinch of paprika
Garnishes
2 slices bread, toasted or fried in olive oil and cut into croutons
1 hard boiled egg, chopped
1 small onion, chopped
½ red pepper and ½ green pepper, chopped
½ pepino (small outdoor cucumber) chopped. (If you're not preparing this in Spain, use a 3" piece of ordinary cucumber)
Serves 4 – 6 people
Soak the bread in cold water for about 15 minutes, then squeeze out water and blend bread with garlic until smooth. Deseed and chop the tomatoes. Blend everything together and add salt and paprika. Drizzle in olive oil, then lemon juice or vinegar, keeping the blender running. Add water, using a little more or less to obtain the consistency you want. If you want your gazpacho really smooth, whizz it in a food processor, but I think it's nice to have a little texture.
Chill your gazpacho until ready to serve. Serve garnishes separately for your guests to help themselves. Buen Apetito!