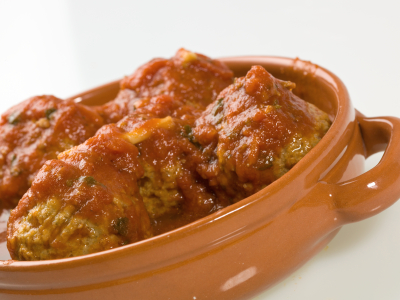 Serves 6 – 8
Ingredients
1 onion
2 cloves garlic
1kilo lean mince
1/4 cup parsley
4 slices bacon
1/2 cup (approx) breadcrumbs for coating
1 to 1 1/2 cups virgin olive oil for frying
1/2 cup flour
1 cup breadcrumbs
4 cups beef stock
4 sprigs finely chopped parsley for sauce
1/3 cup finely chopped walnuts
Method
1. Peel and finely chop the onion and garlic. Finely chop 1/4 cup parsley and the bacon. Place the mince, onion, garlic, parsley and bacon in a large mixing bowl and thoroughly mix. Form into meatballs.
2. Heat olive oil in a large heavy frying pan over medium-high heat. Olive oil should be about 1/2 inch deep for frying. Put the flour onto a plate. Once the oil is hot enough, coat each meatball in flour. Fry meatballs in the frying pan a few at a time, turning them to ensure the meat is cooked through.
3. Remove meatballs from pan as they cook and place on a paper towel to absorb the extra oil.
4. Place breadcrumbs, parsley and 1 cup of the stock into a large pot. Mix well. Turn heat to medium and add the rest of the stock and the nuts. Stir and cook for about 5 minutes.
5. Add the meatballs to the parsley sauce. Serve with rice or French fries.