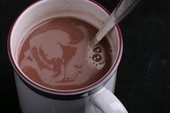 I don't know about you, but if there's one thing I really enjoy on a cold day – and we do get them here in Spain – it's a nice hot chocolate. Most bars serve Cola Cao, which is a chocolate powder which can be mixed with hot or cold milk. It's pretty good when the milk is frothed up in the espresso machine, but for real comfort food and decadence, there's nothing to beat a nice Castilian Hot Chocolate. It's thick, dark and glossy, and you expect it to be sickly, but it isn't. It's a real taste sensation. If only we could make it at home, life would be just perfect!
Well, now you can. I've tracked down a recipe for traditional Castilian chocolate which is really easy to make. However, you need to be sure you're free from distractions for about 15 minutes, as the chocolate needs to be stirred continuously to achieve the characteristic smooth, glossy appearance. Make with full cream milk for best results – this is no time to be thinking low fat. Or you can use diluted evaporated milk if you prefer. For a real treat, whisk in some brandy just before serving. Heaven in a mug!
Ingredients for 6 generous servings
55g unsweetened cocoa powder
150 – 180g sugar
7tsps cornflour
150ml water
1 litre milk, or 650mls evaporated milk, made up to a litre with water.
Brandy and grated chocolate (optional)
Method
Place cocoa and sugar in a saucepan.
Mix cornflour and water in a jug, then gradually add to cocoa and sugar, using a balloon whisk to blend to a smooth paste. Take this slowly, as you don't want any solid lumps.
Heat the mixture over a medium heat, stirring continuously. Gradually add the milk, but keep stirring. It may be easier to ask someone else to add the milk while you employ the whisk.
When all the milk is added, turn up the heat until your chocolate is simmering gently. Don't allow to boil, as this will spoil the flavour.
Simmer for 10 minutes. When your chocolate is thick, smooth and glossy, it's ready to serve. Pour into mugs or thick glasses, adding brandy if required. Grate a little plain or white chocolate on top, if you like. Enjoy!